He stepped out of the closet and into the fire
When he started in the International Commercial Arbitration Law master's programme at Stockholm University, he didn't know it would change his life. He dared to speak about who he really was for the first time in his life – a decision that would have consequences both personally and professionally. Meet Herman M. Duarte, a Latin American lawyer who specialises in LGBTQ rights.
There aren't enough words for him to describe his love of Sweden, which he sees as the country that adopted him.
"For the first time in my life I felt secure. So secure, in fact, that I dared to come out of the closet. For me, Sweden represents solidarity and freedom of expression. In Sweden you can chose for yourself who you want to be. It's an egalitarian society with a government that takes care of its people. Simply put, Sweden is what democracy should be."
He describes the Swedish heart as "a big living room with small doors". One of these big living rooms is Anders Karlsson's.
"Anders is a good friend from the International Law Students Association. It was a huge relief to me that he could eat dinner at a restaurant with me and not care at all that I was gay or what the other patrons would think about it."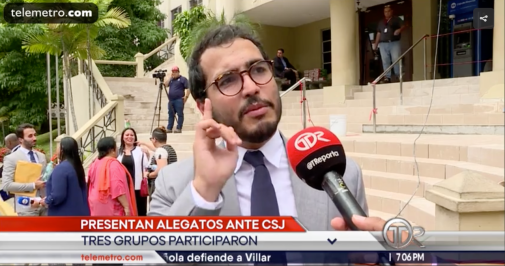 The Facebook post went viral
With the courage he had gathered, he decided to come out publically on Facebook. Herman M. Duarte comes from a prominent family in El Salvador - his great uncle was president in the latter half of the 1980s - so people know his name. The Facebook post went viral. It soon had over 50 000 views. Many people wrote encouraging words, like the Latin singer Ricky Martin. But most comments were far from kind. People wrote things like "Sweden's turned you into a pervert," "You're going to rot in hell," and "You should have kept quiet instead of hurting the people who love you."
"I broke an unwritten rule. If you are homosexual and come from the Salvadorian middle class, you get a quiet type of acceptance as long as you keep it to yourself," explained Herman M. Duarte. He gives an example.
"One of my gay friends can bring his boyfriend to his parent's house for dinner, but it's unthinkable that they would hold hands. Their love is the elephant in the room."
Coming out had serious repercussions for his career
The Facebook post also had serious repercussions for his career. When he came back to El Salvador in 2011, he was inexplicably unemployed even though he was qualified to work in any law firm in his home country.
The few law firms that were interested in his application offered him a salary that wouldn't even cover his student loans. He had no other choice than to strike out on his own, but getting clients is not so easy for a 23 year-old newcomer.
He worked but without results at his own firm for a year before things finally started to turn around. Herman M. Duarte got a job at the Costa Rican firm Batalla Abogados. His time at Batalla didn't only develop his legal skills, it also gave him the strength to pursue LGBTQ issues in his home country. His first step was to start writing columns in the Salvadorian newspaper La Prensa Gráfica where he challenged traditional views in Salvadorian society.
The partners in the firm supported him both morally and financially. After five years he decided to strike out on his own. His previous employer provided the startup capital to found HDuarte LEX, the first law firm dedicated to human rights and arbitration with the goal of eliminating discrimination on the basis of sexual orientation and gender identity.
One of the issues that that HDuarte LEX pursued was the right for same-sex partners to have a civil marriage. The law firm filed a lawsuit against the government with the supreme court of El Salvador for the unequal treatment of its citizens.
"LGBTQ rights are not about getting special privileges. We don't want to restrict other people's rights. We only want to be granted the same rights as everyone else."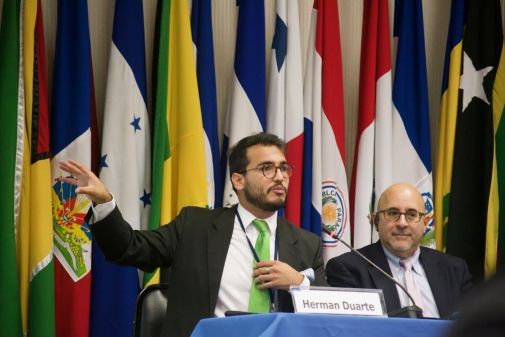 He has received several awards
It has been going well for Herman Duarte and his law firm. In the spring he became the first gay Latin American lawyer under 30 to make the famous Chambers & Partners ranking list. On 26 October he was in London for a gala honouring the Top LGBT + Future Leaders, an award that is given to 50 people every year from all over the world for their work with LGBTQ rights in the business sector. He's recently been named Alumnus of the Year by the Master of International Commercial Arbitration Law for his fight for LGBTQ rights in Latin America.
"I cried with happiness when I received this recognition from my Swedish alma mater. The things that I learned about litigation in Stockholm University's master's programme has been very useful in my work on human rights. I owe a debt of gratitude to Dr Patricia Shaughnessy, the programme director for the Master of Commercial Arbitration Law, especially for her work building close, strong bonds among the students in the programme. It's meant a lot for me and my work."
A mixed outlook for human rights
The outlook for human rights in Latin America is mixed according to Herman Duarte. On the one hand there is a powerful, progressive energy in a positive direction. One of the forces comes from the business sector, which is beginning to see the economic value of diversity.
"Walmart has just started an LGBTQ programme in Latin America. Employees can report discrimination on the basis of sexual orientation or gender identification to the company. Nike has started a similar programme," says Herman Duarte.
Even the legal system has changed positions. For example, Corte Interamericana de Derechos Humanos (similar to the European Court but for Latin America) has made three important decisions in the 2010s (Flor Freire mot Ecuador, Angel Duque mot Colombia, and Atalo Riffo mot Chile). It shows that they are moving in the same direction as the prevailing trend in LGBTQ rights.
But Herman Duarte sees other, more worrying signs. The "echo chamber" of social media allows people never to see opinions that differ from their own. It strengthens their views – like an echo – by repeating the same ideological viewpoints that they already hold.
"This leads to social media radicalising both conservatives and progressives, undermining the foundations of democracy: that different viewpoints can and should coexist. I wish that the Nordic countries would have a clearer voice in Latin America and the world. They have so much to give when it comes to issues like democracy, freedom of expression and human rights."
Study International Commercial Arbitration Law at Stockholm University