Networking and Swedish are important to land a job in law
Learn Swedish to land a job within the field of law in Sweden. This was one of the main messages from three LLM alumni at an alumni meeting for law students Thursday 19 April in Juristernas hus.
The meeting was in the form of a panel discussion with Erik Scheinin, alumnus from Master of Laws (LL.M) in International Commercial Arbitration (ICAL) and Sonia Goncalves and Nedim Malovic, both alumni from the Master of Laws (LL.M) in European Intellectual Property Law (EIPL). Moderator was Oscar Krieg, Chairman of The Law Students' Association (JF).

"Choosing the EIPL programme was a natural step for me since I already lived in Stockholm, but foremost because Stockholm University provides one of the best programmes in the world within the field", says Sonia Goncalves.
Combining studies and work?
Erik Scheinin worked 50 percent during the entire course of the ICAL programme. However, he would not recommend it.

"If you have the option, try not to work. It is not impossible but not advisable."

Sonia Goncalves studied another master's programme after the EIPL. She had no difficulty combining her studies with working as a research assistant.

"The programme I studied was formed to enable combining work with studies. My work was very rewarding, I met a lot of wonderful people."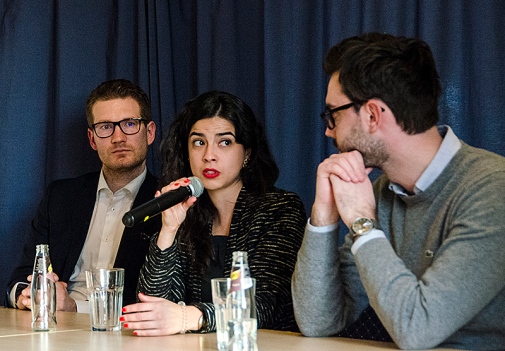 Build a network!
The panelists were not given any thourough information about future job opportunities during the study time, they all stress on the importance of actively building a network.

"I engaged myself in Svenska föreningen för upphovsrätt, an organisation with the aim to enhance knowledge about intellectual property law. Sweden is not a large society. Getting to know people is really vital", says Nedim Malovic.

"Don't forget to keep in touch with people from your programme. Who knows which one of your friends who will eventually land a job for you?" says Erik Scheinin.
Learn Swedish!
They all agree that learning Swedish is crucial to get employed in Sweden. Sonia Goncalves, the only one in the panel who did not grow up speaking Swedish, took Swedish language courses. They also recommend learning the Swedish legal system. That was comparatively easy for Erik Scheinin from Finland since the Finnish law system is quite similar to the Swedish one.

"There are many specificities in Sweden. For example, even though both Sweden and my home country, Portugal, have limited liability companies, the system here is completely different from what we have in Portugal", says Sonia Goncalves.

Though raised in Sweden, Nedim Malovic has a degree in English law which in many ways differs substantially from the Swedish system.

"My employer told me I couldn't become a lawyer without a Swedish law degree. Thus I went to the Kompletteringsprogrammet, a two year conversion programme. It is very time consuming and the competition to get adopted to the programme is tough, but it was worth it."

Sonia Goncalves' recommendation was to think outside the box.
"Don't have a closed mind. Don't think that just because you're a lawyer you should work as a lawyer. There are so many different possibilities within the field of law; put your eggs in different baskets."

The panel discussion was followed by mingle and refreshments in the Juristernas hus bar.
Read more about our master programmes in law.
Professor Mårten Schultz awarded with ÅForsk Knowledge Prize
The alumni discussion was preceded by an award ceremony for the ÅForsk Knowledge Prize winner of 2018, Professor Mårten Schultz who was introduced by Deputy Vice President, Astri Muren. A speech in honour of Mårten Schultz was held by Executive Member of ÅForsk Anders Snell who emphasised Professor Schultz contributions to encourage popular discussions and enhance the general understanding of the mechanisms of law among non law scholars.

Mårten Schultz is a Professor of Civil Law. His research areas are General Private Law, Insurance Law, Comparative Law and Human Rights, especially in digital environments. He is a recurring columnist at Svenska Dagbladet, one of the major Swedish newspapers, and a diligent public debater on topics concerning law.

ÅForsk is a foundation aimed at research and development. The foundation ÅForsk annually distributes a price of 100 000 SEK for outstanding efforts in knowledge dissemination. The winners are nominated by principals of universities. The appropriations distributed are obtained by dividend from the company ÅF AB. The board consists of members of the founders - The Swedish Royal Academy of Engineering Sciences (IVA), Swedish Forest Industries Federation, Swedenenergy AB and ÅF AB.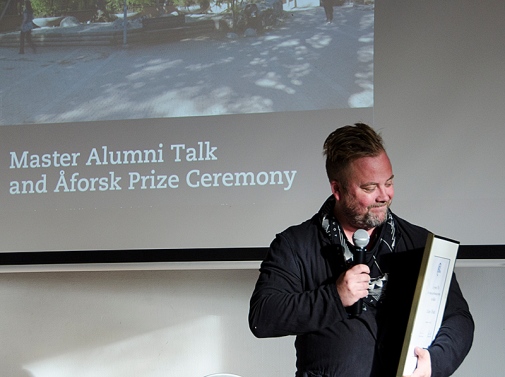 Text and photo: Staffan Westerlund