Stockholm University excels in the Virtual Vienna Vis Moot!
A team of law students at Stockholm University competed in the 27th annual Willem C Vis Arbitration Moot, and achieved placing in the top 16 out of 249 teams.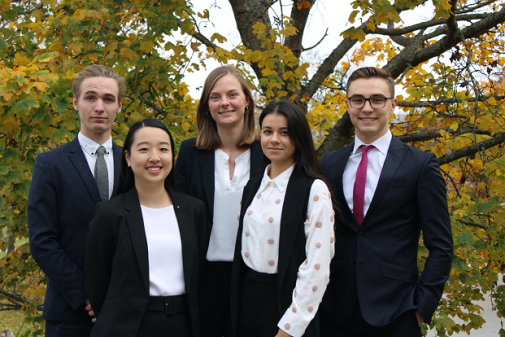 The Willem C Vis Arbitration Mootis the largest studentcompetition. Its 27th editiontook place during 4-9 April 2020, and, although the venue for this annual event is traditionally Vienna, Austria, the COVID-19 outbreak forced moving it to a virtual platform.
Undaunted by the challenges of the virtual moot, the Stockholm University team successfully competed in the general and elimination rounds, achieving a top 16-position amongst 249 teams. During the general rounds, our team competed against Peking University School of Transnational Law, King's College London, College of Law and Businessand Moldova State University. In the elimination rounds, the Stockholm University team faced the teams of University of Zagreb, University of Münster and University of Hamburg.
Our team consisted of Stockholm students: Anne Wang, Leila Kazimi, Dominik Liška, Constanze Schweidtmann, Pavlo Lebediev. Patricia Shaughnessy, Fabricio Fortese and former "mootie"Miljana Bigovic led the coaching of the team throughout the written and oral stages, which also included a number of pre-moots and online practice rounds.
This annual event provides a unique opportunity to highlight the strength of our Department's education and research competence. We are happy and proud of our team's dedication to advancing and excelling in their education. Congratulations!
We are especially grateful for the continued generous support of VINGE Advokatybrå which makes it possible for our teams to compete in the competition.

Last updated: April 16, 2020
Page editor: Natalie Oliwsson
Source: Office of International Affairs